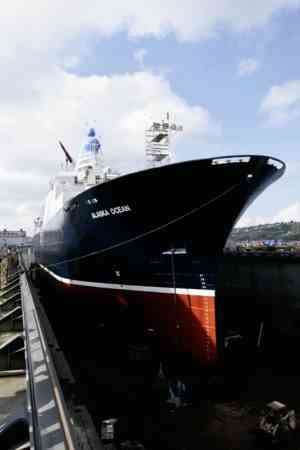 Our global network of NACE-certified coatings inspectors draw on more than 4,100 combined years of extensive corrosion training to bring you the best possible advice. At the same time, our Dura-Plate 301 product line has treated more than 120 million square feet of steel using over one million gallons of solvent-free products since 2000.
Sherwin-Williams has all the products you need in the marine sector with reduced downtime and cost savings to provide superior edge retentive properties. Our products meet or exceed ISO standards and most have IMO / PSPC certifications and just a few of the latest products for the marine market includes:
Fast Clad ER
100% solids epoxy amine coating for immersion service in seawater ballast tanks
Extremely rapid return to service, low VOC levels and good edge retention
Product has been used by the U.S. Navy for over eight years
IMO PSPC qualified for sea water ballast tanks
Dura-Plate 301
Can be applied with no dew point restrictions over damp steel surfaces and over flash-rust, reducing application time and costs
Can be applied over flash rust
No surface profile required
Dura-Plate 301 also features good edge retention, low VOC and is HAPS-free
IMO PSPC qualified for sea water ballast tanks
Applied over marginal surface preparations including UHP water
Seaguard 5000
IMO PSPC qualified for sea water ballast tanks
Can be applied over the leading preconstruction primers
SeaGuard Tie Coat and Sher Release Surface Coat
Non-toxic solution is a patented, resilient, effective silicone-based coating
Foulant release technology causes organisms to be released from surfaces at slow speeds and light water pressure
Superior durability
Provides owners with rapid return on investment due to reduction in fuel consumption.
Sherwin-Williams' marine coatings are known and respected by ship owners around the world; Maersk Line, Norwegian Cruise Lines, Carnival Cruises, Disney Cruises, Pemex, U.S. Navy, Transocean, GMC, NASA, Honeywell International, and Callaway Barge Lines.
In Asia our products have an extensive track record with regional clients such as Petrobras, Transocean, and Teco. We have supported our customers in various shipyards throughout Asia including:
Beihai Shipyard, China
Yiu Lian Shipyard, China
ChengXi Shipyard, China
Sasabo, Japan
BT Engineering, Singapore
Jurong Shipyard, Singapore
Keppel Fels, Singapore
Keppel Shipyard, Singapore
Sembawang, Singapore
MSE, Malaysia
Bason Shipyard, Vietnam
Cam Rahn Shipyard, Vietnam
Hyundai Vinashin, Vietnam
Shipyard 76, Vietnam
Truong An Shipyard, Vietnam
Our products are known for speed and ease of application.
Our project list shows our proven track record of global projects.