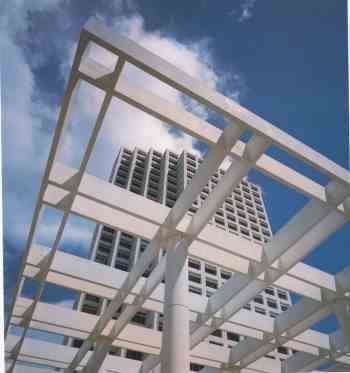 Infrastructure and bridge and highway projects are among the most challenging in the protective industry where exposure to unique weather patterns can impact the choice of coatings needed on different parts of a single project. At the same time, structural and protection requirements must work in tandem with the overall aesthetics of the project and nowhere is this more evident than the world's longest and most inspiring bridges.
Sherwin-Williams' bridge projects include: Mackinac Bridge, Delaware Memorial Bridge, Chesapeake Bay Bridge, Verrazano and Golden Gate Bridge.
Sherwin-Williams comprehensive product range meets all environmental and aesthetic needs for a diverse range of high traffic scenarios such as airports, government and commercial infrastructure and leisure facilities. Designed and tested to exceptionally high standards, our Firetex solutions are designed to chemically react in the event of a fire to protect the underlying steel structure thereby lengthening the time taken for it to reach its critical failure temperature and extending the evacuation window.
Notable projects using the Firetex series products include Bayer Leverkusen/Bay Arena, Radisson Blue, Olympic Park, Weybridge Sub-station, Theatre Munich Phase2, Stockport College, Swiss College and the Fire Training Center Glasgow.