< back to list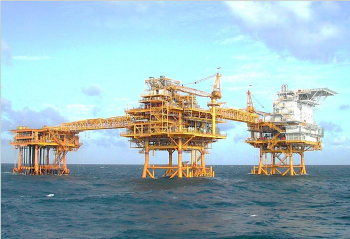 Vietsovpetro Joint Venture - RP1 Oil Rig – Dragon Oil Field
Offshore assets are exposed to the harshest of environments and ever evolving performance challenges, such as increasing process temperature and pressures to cope with new deep and ultra deep water E&P activity. At the same time, owners and operators are looking to extend the service life of offshore assets much beyond the original design life.
Novaplate 325, formulated with advanced novolac technology with both glass and ceramic components, was selected as preferred choice in current oil production of Vietsovpetro (VSP) RP1 Rig in Dragon Oil Field for oil separated pressure unit after passing the high standard technical evaluation.
In addition, the Novaplate 325 not only met the parameter of chemical resistance for gas/oil/water phase in high pressure and temperature environment, the product also superseded in term of reduce the downtime of repair work from 14 days to 7 days due to our Sherwin Williams patented Express-tech that able return in service after 24 hour upon final inspection of the coatings. The client has huge cost saving in bring the platform in operation of extra 7 days downtime which means extra production of 245,000 bbl (@35,000 bbl per day).
Main Products:
Nova - plate 325