< back to list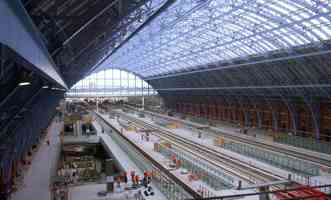 St Pancras International Station
Sherwin-Williams coatings were selected to preserve the original appearance of the St Pancras International Station.
London Continental Railways serves over 6.5 million passengers each year the undercroft area at St Pancras International Station includes 680 cast iron columns, cross members and buckle plates. The coating had to protect the 140 year old structure while matching the original color of this unique UK Heritage site.
The new 'train shed' was constructed to replace the existing one whilst the maintenance work was carried out and the coating specification was to provide at least 25 years anti-corrosion protection. The system used consisted of Firetex intumescent coatings and a topcoat. The total area covered was approximately 150,000 square meters.